Stabilis
Monitoring
Extended machine life cycle
and control of production
processes
What Does It Do?
Stabilis Monitoring collects data directly from machines, equipment, automation and control devices and IT systems in real time.
It can be accessed both from a multi-screen video wall in the monitoring centre and via a web browser from any desktop or mobile device.
How Does It Work?
Stabilis integrates with machinery and equipment to enable data collection directly from the production workstations.
The type of machine, its technological advancement and functionality are not important to us.
The integration is achieved either by connecting to the machine's physical buttons, PLC, or by deploying sensors. Whichever integration method is followed, we never modify the equipment's native software.
A workstation may be fitted with a touch screen with direct access to information on the machine and required maintenance as well as reporting any downtimes and irregularities.
IIOT
Stabilis retrieves data from machine controllers, automation units of production lines, sensors, cameras, or operator dashboards and facilitates its integration with IT systems, e.g. the client's ERP solution.
The system is capable of monitoring an unlimited number of resources at the same time, even if distributed across separate locations.
From now on, real-time access to important information is at hand: key performance indicators (KPIs), OEE parameters, orders and tasks, delays, quality, consumption of raw materials (but also consumables, energy, etc.) and alerts about incidents and out-of-scope conditions.
Interface
Intuitive
System-User
Interaction
Fitting in the latest trends in the design of web applications, the interface of Stabilis is made up of desktops and widgets – all easily customizable – and management dashboards tailored to the user's needs.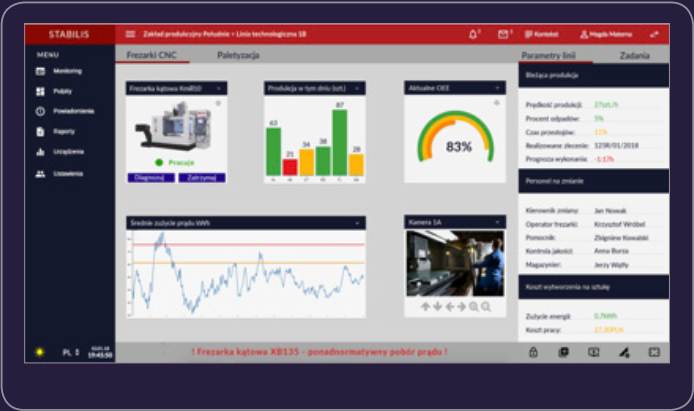 Reporting
A modern reporting engine generates quantitative and qualitative reports in real time. Reports can cover both the entire company resources or detailed data on a particular piece of equipment.
Stabilis Monitoring: Benefits
Cost-efficiency

Elimination of consumables used up to handle orders in a traditional way (paperless).
Elimination of errors occurring during manual data entry.
Reduction of losses, downtimes, and failures.

Effectiveness

Increased production capacity.
Fewer activities that need to be performed by the personnel: enhanced work efficiency.

Optimization

Automated generation of production orders: downloaded from the database and displayed on the operator's dashboard.
Automated preparation of reports and production sheets.
Real-time monitoring of production processes.
Access to information relevant for maintenance personnel (measuring the useful life of spare parts, information on violated parameters, detection of non-standard operation of machinery and equipment, handling warnings and errors).