Stabilis
Operator
Full control of the staff's activities
and their automatic registration
in the ERP system
What Does It Do?
Stabilis Operator takes the integration of workstations with in-house IT systems to the next level using touch screens mounted in operator stations. With two-way communication, such processes as data entry and approval of completed production orders are fully automated.
How Does It Work?
Integration with the workstation is done over a network (Wi-Fi, Ethernet), without interference with controllers of the machinery and other devices.
The operator intuitively inputs information or confirms their actions on the touch screen. Then, based on the input data, relevant documents and entries in the desired IT systems are created automatically.
Interface
Intuitive
System-User
Interaction
Our interface has been designed in line with the latest trends in web application development: it is highly intuitive and user-friendly. Its modular design allows adjustment of the layout and types of displayed information.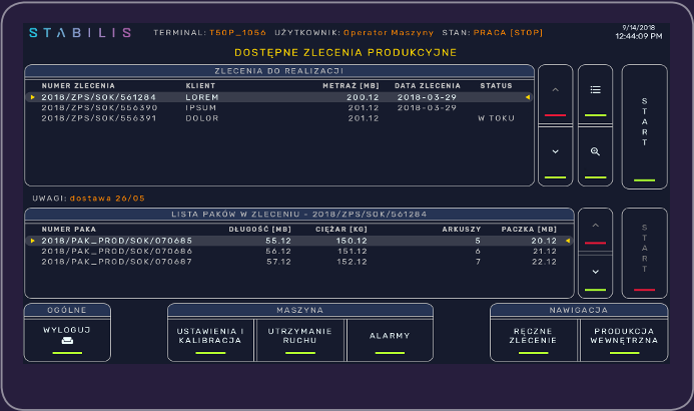 Stabilis Operator: Benefits
Cost-efficiency

Elimination of consumables used up to handle orders in a traditional way (paperless).
Elimination of errors occurring during manual data entry.

Effectiveness

Increased production capacity.
Fewer activities that need to be performed by the personnel: enhanced work efficiency.

Optimization

Automated generation of production orders: downloaded from the database and displayed on the operator's dashboard.
Automated preparation of reports and production sheets.