Our System
The only MES system that adapts 100% to your needs and enables continuous improvement.
What Does It Do
The STABILIS MES (Manufacturing Execution System) supports the management of the production process by controlling: performance (OEE), order processing and staff activities.
It also helps to improve the performance of devices, reduce labor consumption and reduce losses.
How Does It Work?
Data obtained from production stations is directed to the IT systems. Your staff has access to them in real-time on the HMI panels next to machines, as well as on mobile devices and in the monitoring center.
Thanks to the ability to control machines, many processes carried out so far by staff are carried out automatically, e.g. sending production orders from the ERP system to the machine, uploading parameters, handling peripheral devices and their integration with ERP systems.
System Features:
Registration of staff and machinery working time
Real-time monitoring of production processes
Registration of information on the quality of production and amount of waste
Detection and recording of stoppages, micro-stoppages and failures
Interface
"tailor-made"
Intuitive
System-User
Interaction
Fitting in the latest trends in the design of web applications, the interface of STABILIS is made up of desktops and widgets – all easily customizable – and management dashboards tailored to the user's needs.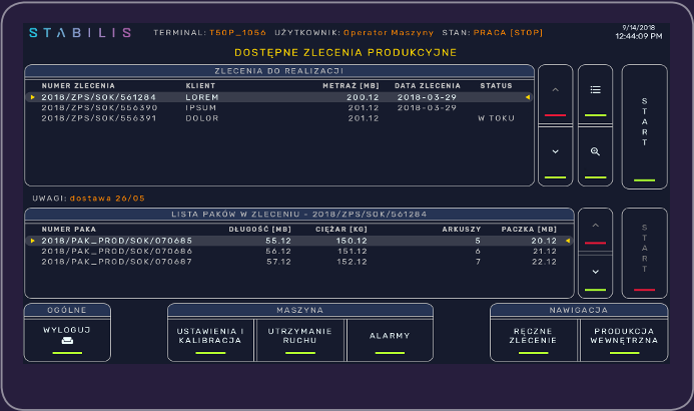 Provides access to historical data from the production cell.
It enables remote monitoring and real-time control of operator panels.
Has the ability to integrate with all authentication technologies.
Fully adapted to the production process and therefore intuitive for the operator.
Resistant to network and power outages (restoration of the last view after resumption).
Connected with IT systems and peripheral devices.
Reports
Advanced reporting secures access to collected data. The cutting-edge reporting engine enables quick and effortless generation of custom quantitative and qualitative reports. They can be retrieved on-line or off-line in real time.
Financing the implementation
of STABILIS MES
The implementation of STABILIS MES can be refinanced from the grant program of the Industrial Development Agency for the transfer of innovative technologies - "Open Innovation Network" (SOI).
The program is targeted at the SME sector. The amount of support is 45% - 70% of the implementation costs depending on the size of the enterprise, according to the regional aid map.
Grants awarded in SOI are intended for the purchase of ready-made solutions. Financial support covers the costs of purchasing innovative intangible assets.
The minimum co-financing value is PLN 100,000, while the maximum grant is EUR 200,000.
STABILIS MES meets the conditions of the SOI program because it has an "Opinion of Innovation" - a document issued by the Polish Industrial Research Institute for Automation and Measurements (PIAP) - the most important Polish research center in the field of industrial automation and robotics.